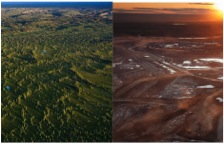 February 17, 2013 7pm – 10 pm
(speakers from 7 to 9pm, networking from 9 to 10pm)
Busboys and Poets 1025 5th Street NW, Washington D.C.
This event is part of
the Women's Earth and Climate Caucus (WECC) Delegation to Washington D.C.
Indigenous communities and women of the land are taking the lead to stop the largest industrial project on Earth. From Northern Alberta, which is ground zero with over 20 corporations operating in the tar sands sacrifice zone, to Texas where the XL Keystone pipeline is under construction, the tar sands and related infrastructure are threatening communities across North America. The cultural heritage, land, ecosystems and health of land-based communities are being sacrificed for oil money in what has been termed a "slow industrial genocide."
Women are joining in solidarity to speak out against the tar sands that not only threaten their communities but the very future of all life, as we know it. NASA scientist, Dr. James Hansen states that if the tar sands project goes forward it will be "essentially game over for the climate." But, we can take a stand to accelerate the transition to a clean, safe and sustainable energy economy by stopping the expansion of the tar sands. We can stand up for the rights of our communities and nature. Solutions exist -- now we need the collective and political will to implement them.
Join us for an extraordinary evening with women leaders speaking out against the tar sands and its violation of their lands and communities, and hear about implemental, clean-energy solutions.
With special closing comments after the panel from: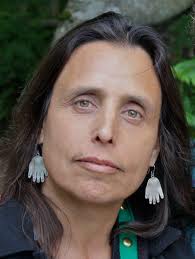 Winona LaDuke,
Executive Director of Honor the Earth
(Anishinaabe)
and an internationally acclaimed author, orator and activist. A graduate of Harvard and Antioch Universities with advanced degrees in rural economic development, LaDuke has devoted her life to protecting the lands and life ways of Native communities.
Panelists include:

Melina Laboucan-Massimo is Lubicon Cree from Northern Alberta. She has been working as an advocate for Indigenous rights for the past 10 years. She has worked with organizations like Redwire Native Media Society and Indigenous Media Arts Society. She has joined Greenpeace as a tar sands climate & energy campaigner and works with the Indigenous Environmental Network.

Crystal Lameman is a Beaver Lake Cree Nation activist and Sierra Club and Indigenous Environmental Network Alberta Tar Sands Campaigner. Crystal is committed to restore Indigenous Treaty rights and stopping the exploitation of the tar sands.

Eleanor Fairchild is a 78-year-old farmer from eastern Texas who is working to defend her land against the Keystone XL pipeline. Eleanor is a great-grandmother who was arrested for "trespassing" on her own farm.

Julia Trigg Crawford is the Farm Manager of her family's 650 acre working farm in far northeast Texas that stands directly in the path of TransCanada's controversial Gulf Coast Pipeline Project. She and her family stand steadfast and united in the protection of their property rights, the preservation of the environment, and are currently in courts challenging TransCanada's condemnation of their land.

Angelina M. Galiteva is Founder of the Renewables 100 Policy Institute and was appointed in 2011 by Governor Jerry Brown to the California Independent Systems Operator Board (CAISO). She also serves as a Chairperson of the World Council for Renewable Energy (WCRE) and as Chair of the Renewable Energy Working Group at the Business for Environment (B4E) summits.

Osprey Orielle Lake (moderator) is Founder and President of the Women's Earth and Climate Caucus where she is working with grassroots leaders, policy-makers, business people, and scientists to promote resilient communities and foster a post-carbon energy future by addressing systemic change. She is also Co-Chair of International Advocacy for the Global Alliance for the Rights of Nature.
Direct inquiries for the Feb. 17th event to Wyolah Garden wgarden@ix.netcom.com
Women's Earth and Climate Caucus Delegation EPA Meeting
The WECC Women of the Land Delegates will meet with EPA February 19, 2013. Please direct inquiries to Janet MacGillivray Wallace, Esq. 415 990 3806 who is heading up the meeting.
The WECC Delegation includes the speakers listed above and the following leaders:

Janet MacGillivray Wallace, J.D., LL.M., is an environmental attorney and social change activist. Formerly with EPA and noted environmental and environmental health organizations, Janet, of Creek heritage, works in burdened communities where Mother Earth's fossil fuel resources are extracted and consumed globally by industrial corporations as raw materials for energy. Janet has dedicated her work to stopping the tar sands based Keystone XL Pipeline, first with Texas landowners and now as Founder/Director of the Fossil Fuel Resistance and Clean Energy Project affiliated with the Women's Earth and Climate Caucus. She blogs on issues of corporate imperialism, subsidized fossil fuel industry, Indigenous Rights and the Rights of Nature.

Kandi Mossett (Mandan, Hidatsa, Arikara) is Native Energy & Climate Campaign Organizer for the Indigenous Environmental Network.. She works primarily at the grassroots level bridging generational gaps in tribal communities while connecting the local to the national and the national to the international in an effort to raise awareness about sustainability and continue the fight towards just climate and energy solutions for all.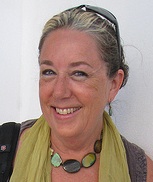 Claire Greensfelder
is a peace and safe energy activist, educator, political campaigner, and occasional journalist focusing on climate change since 2006. She is currently a Consultant to the International Women's Earth and Climate Initiative (IWECI) for their September 2013 Global 100 Women Summit and to the multi-media exhibit: Conversations with the Earth: Indigenous Voices on Climate Change - most recently seen at the Smithsonian's National Museum of the American Indian.